PEER certification final: College students gather energy data during a pandemic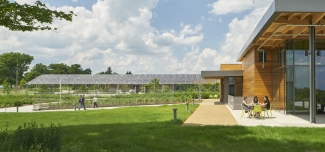 In February 2020, Chatham University registered its Eden Hall campus in Gibsonia, Pennsylvania, for PEER certification. Then, a month later, the world shut down due to the COVID-19 pandemic.
The university had a grant to support the certification process, but the student who was supposed to lead the certification effort for her thesis work had graduated by the time the project began. Mary Whitney, Ph.D., Chatham's director of sustainability, assembled a new team of graduate students to tackle the project. They broke the PEER scorecard up into categories and started chasing down data to document the campus's energy infrastructure and earn certification points—periodically conferring with an engineer from GBCI for guidance.
"We had two faculty members that we thought would be our go-to sources on our side, but they left, and it was suddenly just the students," Whitney says. "But after we divided up the sections, it went really well, because we realized: There's no cavalry to call; we are the cavalry."
Chatham bills the 400-acre Eden Hall campus, opened in 2014, as the first academic community in the world built specifically for the study and design of sustainable living, learning and development. The campus has a local power generation capacity of 341 kW, with multiple solar installations, two natural gas cogeneration turbines, a geothermal energy loop and a mobile battery storage system. Eden Hall also has a 2.5 kW microgrid, featuring solar panels and a wind turbine.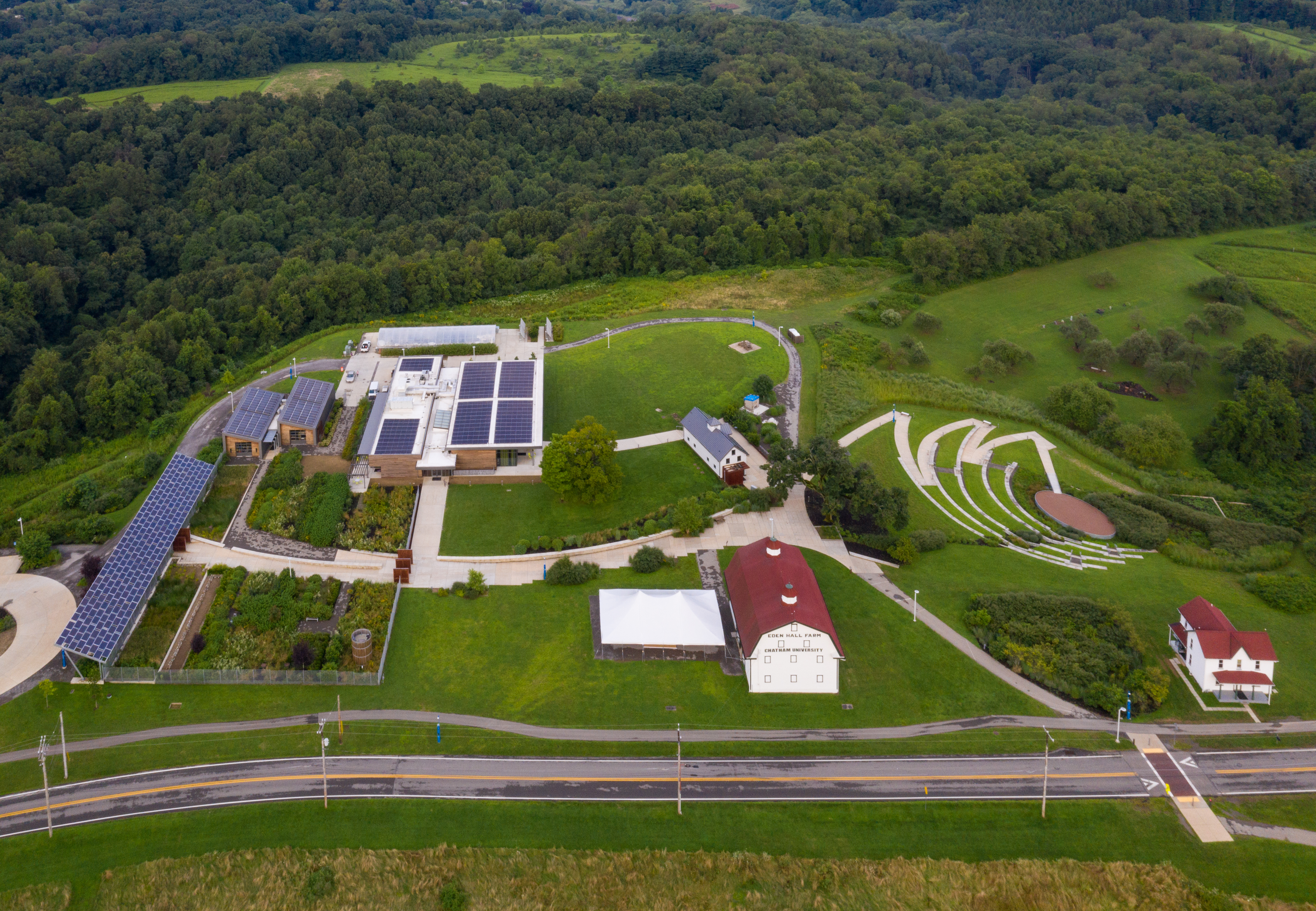 Photovoltaic installations on the Eden Hall campus. Photo credit: Chatham University.
While university officials were confident in the sustainable features of the campus's energy infrastructure (which was designed to help the buildings at the campus achieve LEED Platinum certification), the PEER certification process helped them to gather and organize information on these systems. "The idea of PEER is to really document the whole microgrid in detail," Whitney says. "We have all of this information, but so much of it was disconnected. PEER gets it all in one place."
As a newer rating system, PEER doesn't have the same ready pipeline of professionals as LEED. Also, PEER doesn't yet have the benefit of an established program like LEED Lab, which provides a framework for college students to participate directly in the certification process.
Students can enjoy flexible indoor/outdoor spaces at the Esther Barazzone Center. Photo credit: Bruce Damonte.
"When people want to do a LEED project, there is an army of consultants they can reach out to," says Sean McMahon, vice president of product management for USGBC. "With PEER, we're not there yet. What's really impressive is that these students were able to dive in and play that role in the project."
Anna Grace Mbow, program manager for strategic partnerships at USGBC, says that Chatham University's Eden Hall campus is the first project to use a student-led PEER certification effort. "Chatham is a small institution, but they're very well known for their strong sustainability program," she says. "It was a really collaborative, real-world, hands-on experience for the students."
In August 2021, the campus received Silver certification under PEER v2, receiving 56 out of a possible 110 points. In addition to documenting the positive aspects of the campus's energy infrastructure, the certification process identified areas for improvement. These included the possible hardening of power systems against natural disasters, conducting regular power quality assessments, and implementing preventive and predictive maintenance strategies.
Section diagram of sustainable features. Image by Muthun.
"It was a great way of documenting what we had, and then highlighting what we needed to focus on," says Nelson DiBiase, who led the certification effort in his role as a graduate student employee at Chatham. "There were times where we said, 'Wait, we don't have this? Maybe we should implement that.' It was not just a great project to capture what's going on, but also to help inform the future."
While the team did divide up the work of tracking down information, DiBiase says there ended up being a fair amount of overlap among the different team members' work. As the leader of the team, he helped other graduate students to set up tours with facilities managers and access data platforms. At times, DiBiase says, the team had to be creative in seeking out data. For instance, when they were looking for ways to track power outages, they initially considered simply looking at an analog clock that didn't have a battery backup, and checking to see how far behind the clock fell over a given period of time.
Inside the Esther Barzzone Center, an open, skylit demonstration area serves as a formal presentation and casual study space. Sculpted mud plaster walls and the two-story green wall suggests the importance of soil health. Photo credit: Bruce Damonte.
"Here we were, knee-deep in these huge data sets, and then we were considering using this clock," DiBiase says. "We ended up finding a more automated solution, but that was one of the things we considered as an option."
In addition to the core team, students from a graduate class at Chatham helped out with the effort, and DiBiase says that some of them became more interested in sustainability as a possible career path as a result. As for himself, DiBiase thinks that his experience managing the project helped make him more attractive as a job candidate, and ultimately helped prepare him for his current role as a senior consultant for energy, sustainability and infrastructure at Guidehouse, a management consulting firm.
"In consulting, it's certainly important to be able to adapt quickly," he says. "That's something I learned at Chatham."
SIDEBAR:
Spotlight on Eden Hall
Chatham University's Eden Hall campus was designed to showcase sustainable solutions.
Energy: The campus has more than 400 large solar panels, which collectively generate enough electricity to power 14 homes for a year. Unused energy is fed back into the public electric grid.
Water: Five rain gardens collect stormwater and direct water flow to gravel walkways, making it easier for the rainwater to reach the soil. Also, a rainwater harvesting system gathers and cleans rainwater for use in crop irrigation.
Food and agriculture: The campus includes a certified organic farm, a demonstration garden and multiple greenhouses. Faculty and students engage in sustainable agricultural practices, producing food for the campus.
Air quality and climate: The weather station at Eden Hall collects data on solar radiation, air temperature, precipitation, wind speed and direction, and even leaf wetness. Also, soil sensors collect data on metrics like volumetric water content and electrical conductivity.
Natural and built systems: Buildings on the campus were designed and constructed to meet LEED Platinum certification, and some future buildings are planned to be built to Living Building Challenge standards—allowing Eden Hall to serve as a demonstration site that models a variety of building standards, energy management techniques and approaches to sustainable living.
SIDEBAR 2:
USGBC education resources