The origins of PEER and the Bob Galvin Award [video]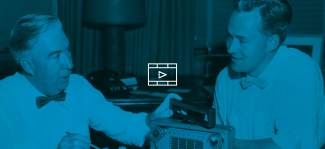 Most of us know PEER as the nation's first comprehensive, consumer-centric and data-driven system for evaluating energy performance. What most of us may not know is that its origins are rooted in telecommunications.
Bob Galvin, son of Motorola founder Paul Galvin, and CEO of Motorola from 1959 to 1986, founded the Galvin Electricity Initiative to drive innovation and transform the electrical power industry. Galvin's legacy is defined by his commitment to transform the electricity market, shifting from largely bulk grid technology to localized solutions. His greatest joy, however, was encouraging those around him to innovate and invent technology that would sustain future generations.
In 2009, the Perfect Power Institute, an outgrowth of the Galvin Electricity Initiative, was formed to build a sustainable design and rating system for energy. It was developed in part because Galvin recognized that electricity was not evaluated to the same extent as other assets, such as buildings. 
In seeking to invent a nearly fail-proof system to produce, distribute and transport energy, the Perfect Power Institute aimed to replicate the types of standards USGBC used when it launched LEED in 1998. PEER was launched in 2013. Because of the highly collaborative nature of its development, PEER fit perfectly into the global structure of GBCI, which has administered and developed the PEER rating system since 2014. PEER is a road map for power generation that is much more environmentally sensitive, profitable and resilient—fulfilling its intended purpose to do for the energy market what LEED does for buildings.
Watch the video below to learn more about PEER.